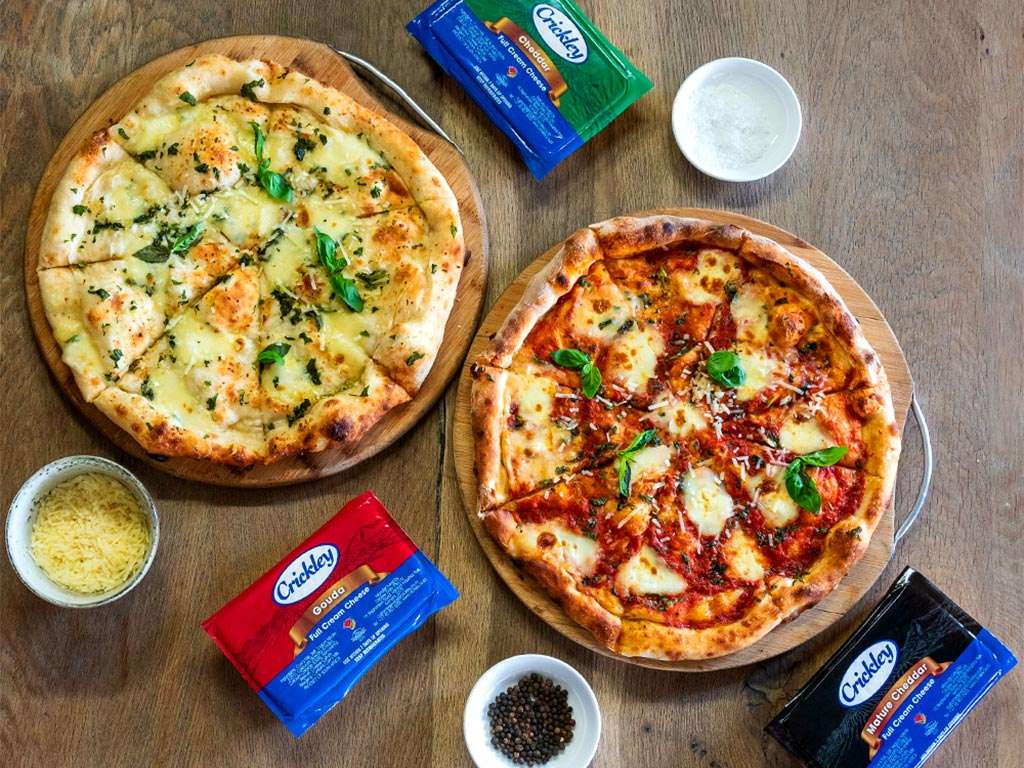 Yeast: You only need 1 standard packet of yeast (2 and 1/4 teaspoons) to get the job done.
Water: 1 and 1/3 cups is the perfect amount. Use warm water to cut down on rise time at 100-110°F.
Flour: Use unbleached all-purpose white flour
Oil: A couple Tablespoons of extra virgin olive oil
Salt: Salt adds necessary flavor.
Sugar: 1 Tablespoon of sugar increases the yeast's activity and tenderizes the dough, especially when paired with a little olive oil.
Mix the dough ingredients together by hand or use a hand-held or stand mixer.
Knead by hand or beat the dough with your mixer.
Place dough into a greased mixing bowl, cover tightly, and set aside to rise for about 90 minutes or overnight in the refrigerator.
Punch down risen dough to release air bubbles. Divide in 2.
Roll dough out into a 12-inch circle.
THE BEST New York Style 3-CHEESE WHITE PIZZA
Pizza dough 
Extra-virgin Olive 
Garlic Powder 
Crickley White Cheddar Cheese, 
Crickley Cheddar Cheese
Italian Herbs 
Start with ready-to-bake refrigerated pizza dough.
Toss the dough and using fingers, spread onto the pizza pan.
Generously drizzle with extra-virgin olive oil. Sprinkle it with garlic powder.
Top with freshly grated Crickley Cheddar and White Cheddar.
Generously sprinkle with Italian herbs.
Bake at a high heat– 450 degrees to allow the crust to crisp on the bottom.